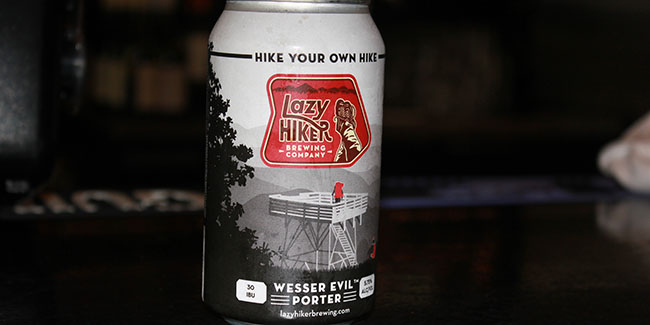 Located in the picturesque town of Franklin, in southwestern North Carolina, Lazy Hiker Brewing Company is a growing name in the southeastern craft beer scene. Having set up shop in an old fire department, Lazy Hiker is a functional cornerstone of the downtown community in Franklin, and an important stop for the many travelers to the area.
As the leaves begin to transition to their fall array of colors in the mountains, we thought it fitting to feature Lazy Hiker Brewing Company for the month of September.
The History of Lazy Hiker
About an hour and a half from Beer City, Asheville, NC, Lazy Hiker opened for operation in May of 2015. Lazy Hiker was the first microbrewery of its kind to open in Franklin. Their 15 barrel system produces some of the most innovative beers in the region. Per their website:
Lazy Hiker Brewing Company is a craft brewery located way up in the mountains of Western North Carolina. The goal of the brewery is the idea to do something good.

•   We want to bring a good benefit to our town of Franklin, NC.

•   We want to be a good fit for the mountain region that we love.

•   And we want to do all that with good beer.
Best Beers at Lazy Hiker Brewing
Trail Mate Golden Ale
ABV 4.6%
IBUs 20
Their flagship beer, the Trail Mate is a great, light, crisp beer to enjoy after a hike.
Slack Pack IPA
ABV 6.0%
IBUs 55
Their flagship IPA, this is a balanced, light IPA with a sweet malt finish.
Wesser Evil Porter
ABV 5.75%
IBUs 30
With coffee, molasses, and a note of hops, this porter is great for shaking off a late fall, extra cool hike on the AT.
Amber Ale
ABV 5.5%
IBUs 35
A uniquely bright red color pays homage to this beer's pronounced notes of strawberries and spice.
Craft Beer Western North Carolina
Lazy Hiker proves that the craft beer brewing movement in western North Carolina is growing beyond the city of Asheville. Franklin is a cool town located near the Appalachian Trail, several other long and short hikes, wilderness and casual campgrounds, white water rafting and tubing, waterfalls, mountain views, and everything else we love about the mountains.
Committed to the town of Franklin, Lazy Hiker is part of a growing movement of micro-brewers. If you have a great small town about which you care and are thinking about starting a brewery, we can help. We represent craft beverage clients across the country, helping buy, sell, and even save properties. Find out more about buying, selling, and starting your craft brewing business.